DTG(Digital) vs Screen Printing: What's The Difference?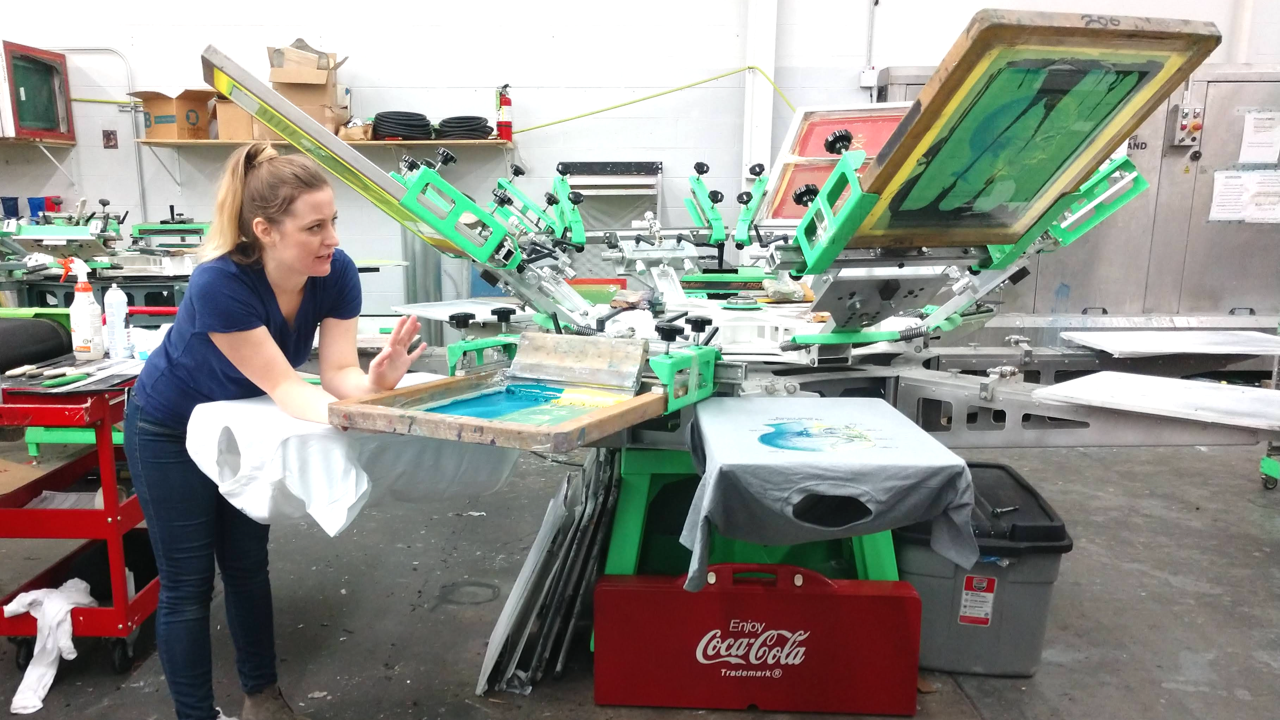 If you're thinking about starting an apparel printing service for your business, it's important to know the difference between DTG and screen printing. With the print industry constantly advancing with new technologies, this leaves printers with a variety of different print methods to choose from. When it comes to printing apparel, many are turning towards digital printing as it is both increasingly popular and affordable for printers. However, there are advantages and disadvantages for both print methods, which will be outlined in this quick guide.
What's the difference between DTG and screen printing?
DTG (Direct-to-Garment)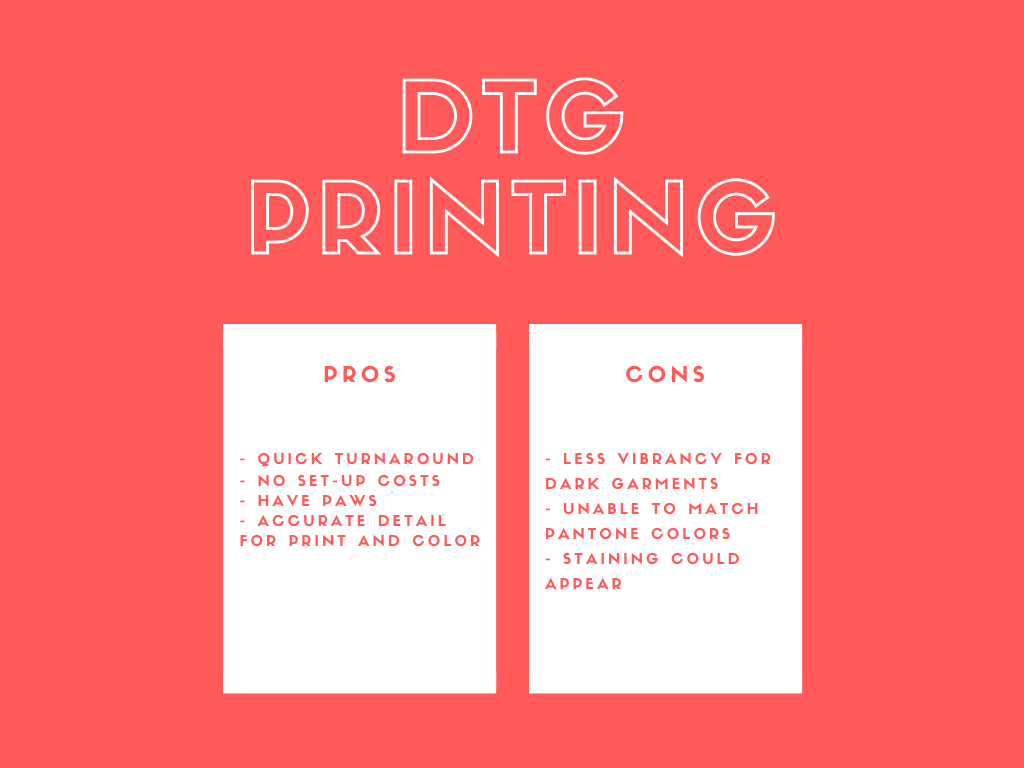 Pros:
Quicker turnaround compared to screen printing

No set-up costs (ideal for low volume runs that are 100 or less)

A good option for designs that use a variety of different colors

Accurately prints full-color detailed photographs

Does not require artwork to be layer/colour separated or vector format
Cons:
Printing on dark-colored garments is less vibrant and maybe grainy

Unable to match exact Pantone colours

Obvious staining could appear due to how pre-treatment (under base layer for dark garments) reacts to the garment
For printers who are only planning to print in small batches, DTG is more ideal.
Screen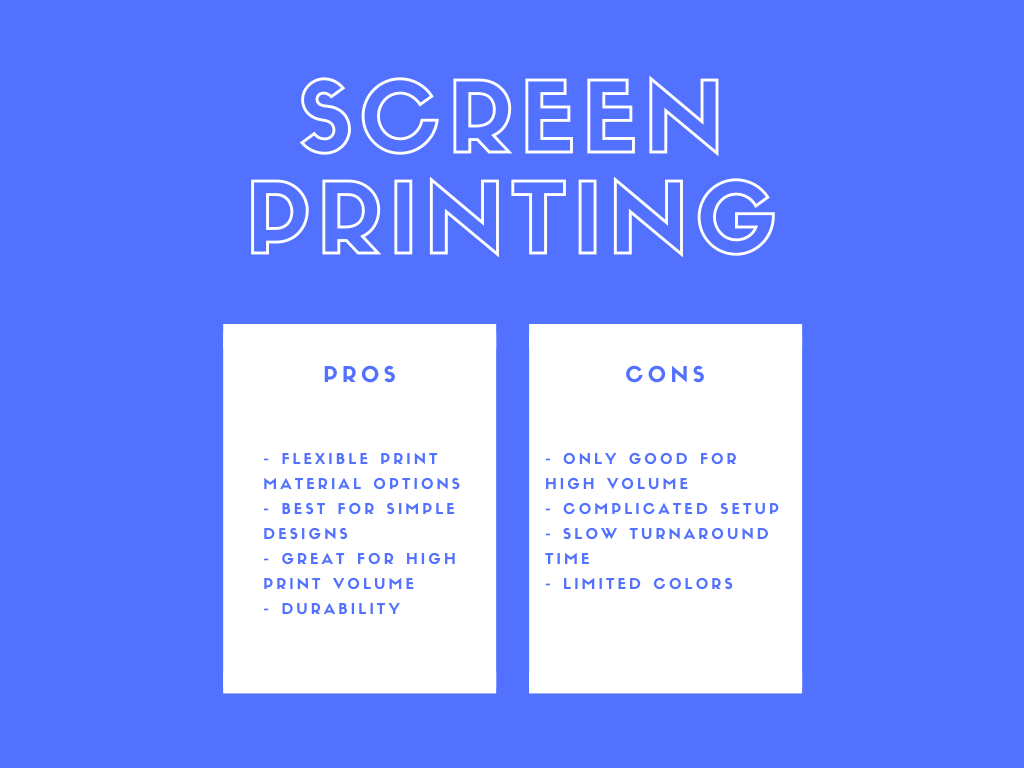 Before digital technology existed, screen-printing was the traditional method for printing on apparel. The process for screen printing involves pressing the ink down through a woven mesh-like stencil onto the fabric. Despite the limited colors, printed graphics can come out in full saturation.
Pros:
Flexible print material options

Works best with simple designs

Ideal for high print volume

Durability
Cons:
Only good for high print volume

Setup more complicated

Slower turnaround time

Limited colors
As opposed to DTG printing, screen printing is best for those who are looking to print a large quantity of apparel products. Many printers currently rely on screen printing because of the vibrant and durable results.
Which Method Should I Use?
For those who are new to printing apparel, you're probably wondering which method is best for you. Before making a decision, do your research on both methods. The more knowledgeable you are about different print methods, the more reliable and insightful you appear to your clients. A few factors to take into consideration when choosing your print method:
The volume (Are you printing a low or high volume?)

The turnaround time

How complex are the designs you plan to print?

What and how many colors will you be using?

Is a lot of time and effort needed for setup?

Which method is more cost-efficient for your business?
Overall, the easiest and most an effective way to grow your business today would likely be DTG printing. This method has been adopted by many printers in the modern print industry and its ease of access and setup save time and resources. Also, with the rising popularity and need for customization from clients, this is where DTG plays a big role in the apparel industry.
At
The Print Cafe of LI
, our apparel printing service is brought to life through DTG printing. We strive to offer quick turnaround times and customization for your convenience. Check out the
apparel printing
service we offer at, The Print Cafe of LI, and start fulfilling your clients' needs with printed apparel today!