Holiday Shopping Outlook 2022
How Inflation is Impacting Holiday Shopping Plans in 2022
Fall is right around the corner and the holiday season is fast approaching. In an unprecedented time with the highest rate of inflation in 40 years, and an impending recession, it's never too early to start planning and budgeting for the expensive holiday season.

With many retailers looking at big sale days like Amazon Prime to forecast consumers' shopping habits, we wanted to also know how Americans are planning for the upcoming shopping season. A survey of more than 1,000 Americans reveals if they've started saving already, how much money they plan to spend, and how inflation is impacting their decisions.


Holiday Shopping in 2022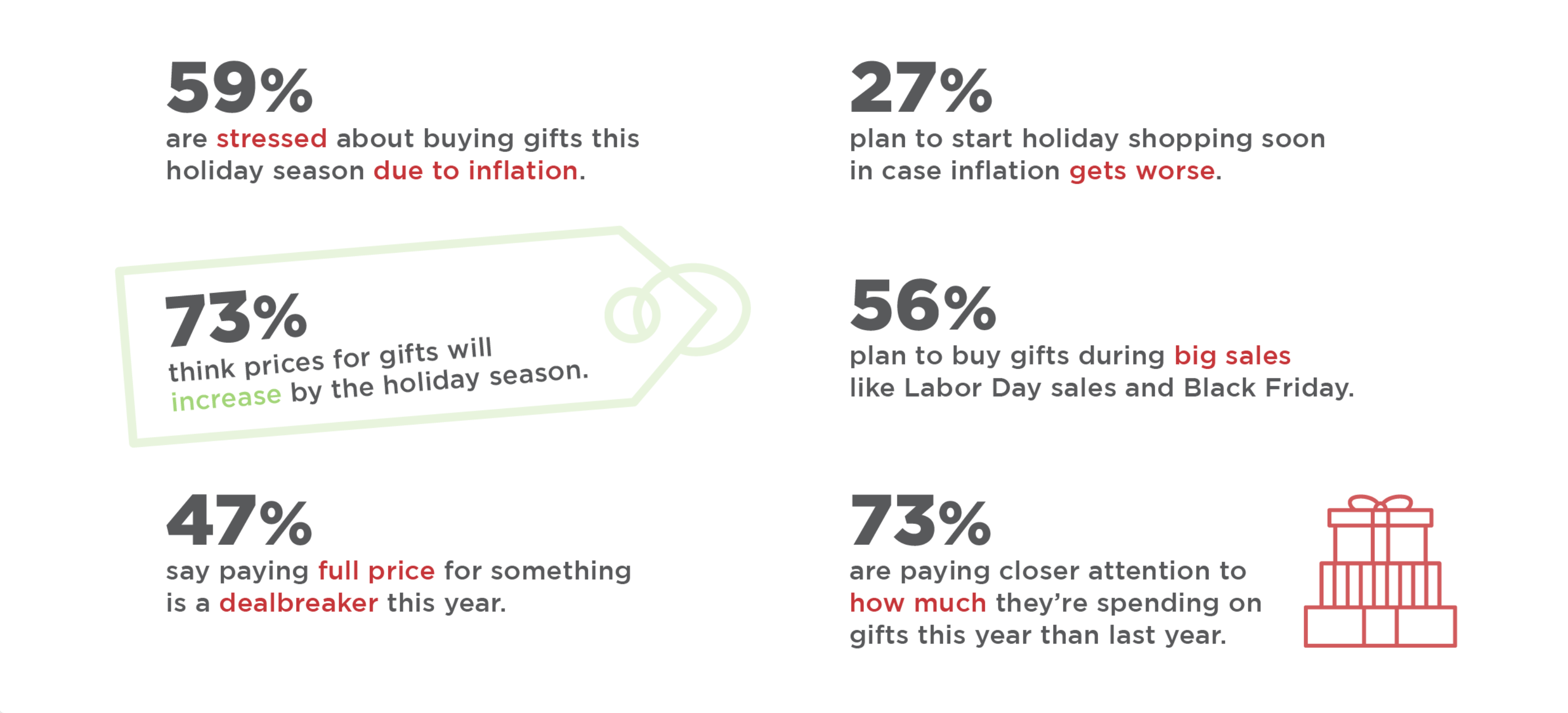 Although Christmas is months away, 59% of Americans are stressed about buying holiday gifts this year due to inflation. Just over one in four (27%) are planning to start holiday shopping soon in case inflation gets worse.

Almost three in four (73%) think prices for things will increase by the holiday season, and 56% are planning to do their holiday shopping during big sales like Labor Day and Black Friday. Interestingly, almost half of Americans (47%) say paying full price for something is a dealbreaker this year.

If you're not in the habit of budgeting for gifts, this may be the time to start. 73% are paying closer attention to how much they're spending on gifts this year versus last year.

It's the Most Expensive Time of Year
In 2021, Americans spent an average of $611.19 on Christmas gifts. This year, they plan to spend slightly less on gifts: $575.64. While this is only about $35 less, 61% say they actually plan to buy fewer gifts. 41% expect to spend more than last year.

12% have already started their holiday shopping. When asked why, 16% of those say they started because of budget concerns. 11% say they're already shopping because of inflation.

For those who haven't begun the process,17% will start in October, 31% in November, and 13% in December. Not everyone has a plan for shopping though, as 23% don't know when they'll start their holiday shopping and plan to buy gifts as soon as they find them.

On average, Americans buy gifts for 8 people during the holidays. Just over one in five (22%) plan to buy gifts for fewer people this year. When asked who they buy gifts for every holiday season, 67% say parents, 56% say their partner or spouse, 48% say their siblings, and 45% say their kids.

Now that we know how much Americans plan to spend, we wanted to find out just how they plan to pay. Just over half (53%) of people say they will use a credit card to cover holiday costs. 35% will make the most of points and rewards programs to help them pay for gifts. 29% will use savings, 24% will use gift cards they already own, and 15% plan to use a Buy Now, Pay Later service. A mere 6% will regift something they already own.

Some experts say it's not a bad idea to start saving for or buying gifts early, as inflation is predicted to climb throughout the year. When asked if they've already started saving for the holidays, 14% will start saving in August, 11% in September, 9% in October, and 3% in November.

It's no surprise that rising costs may mean Americans have to cut other things out of their budget to pay for gifts. 43% plan to limit other expenses this year to help make room in their budget for the upcoming holiday season.

Over one in three (36%) will cut down on dining out. 27% will cut down on activities like going to the movies, events, and concerts. 20% will buy fewer clothes, 13% will limit travel, and 12% will cut down on beauty appointments like haircuts and manicures.

Another way to save money is to skip paying for shipping. 70% of Americans usually add something to their cart to reach a free shipping threshold. Buying gifts in bulk and having them shipped together can save money and time.

It can be stressful thinking ahead to the most expensive time of the year. It's a good time to start planning, saving, and budgeting for gifts as inflation continues to climb. Make the most of upcoming sales, evaluate where you can cut back in your budget, and pay attention to shipping slowdowns, and you'll be well prepared for the upcoming holiday season.

Methodology
In July 2022, we surveyed 1,004 Americans to ask about their opinions on holiday shopping for the upcoming season. Respondents were 48% male, 50% female, and 2% transgender/non-binary. Respondents' ages ranged from 18 to 84, with an average age of 38.
For media inquiries, please contact media@digitalthirdcoast.net.

Check us out Today to Learn More Information on all of our Marketing Products Call 516-561-1468 or Visit Our Website at:www.printcafeli.com